Twilio Free Trial
When you create a new Flex Project, you get $14.50 in free trial credit and a US phone number for testing. A Twilio trial lets you test incoming calls and messages without making any commitments. These projects have the same features and constraints as standard Twilio Free Trials.
Upgrade your Project for 5,000 free Flex Active User Hours
It may take time to build out or migrate a contact center. To help accelerate your development, we provide 5,000 free Active User Hours when you upgrade your Flex project. Just add your desired billing information and provide an initial account balance to unlock your free hours.
This starter plan also includes unrestricted access to many of the underlying Twilio products that power Flex.
Notice: For a full list, please see the Twilio Flex Fair Usage Policy. Flex Insights and premium products are not included in the free tier. Twilio Programmable Voice and Messaging communications are billed separately.
Flex Paid Plans
When you're ready to go live, we recommend choosing a paid plan that includes Flex Insights and our premium products. This will remove any balance remaining from your free hours and transition you to paid activity. There are two pricing options:
Named user per-seat pricing

: Twilio charges a flat monthly rate of $150 for each seat.

Active user per-hour pricing

: Twilio charges a flat $1 per-hour rate for active users.
Notice: Once you have selected a paid pricing plan (either Active User Hour or Named User) you are not able to change pricing plans. We recommend that you create a new project if you need to change your pricing plan.
Flex Users
For both pricing plans, a user is anyone with access to the Flex User Interface - for example, any agent, supervisor, or admin. These users are represented as TaskRouter Workers. For Named User Pricing, we measure the number of provisioned Workers. For Active User Hour Pricing, we measure the time a Worker is in any TaskRouter Activity except Offline (more detail below). We automatically provision these Workers the first time a user authenticates into the Flex UI.
Named User Pricing
Named User Pricing is billed at the first of each month. The number of seats is calculated as the number of TaskRouter Workers that exist within the TaskRouter Workspace associated with your account. If a new user is provisioned within the month, an additional seat will be billed at the time of provisioning. Users added during the month will be charged for the full cost of the user and not be prorated. If you remove a Flex User they will not be charged in the next calendar month. Creating and removing Flex Users is described in our Manage Flex Users article.
When selecting Named User Pricing, your initial charges for the first month will be prorated based on the day of the switch.
Notice: Customers are billed for the maximum concurrent users each month. For example, deprovisioning and then re-adding a user would not incur an extra charge.
Active User Hour Pricing
Active User Hour Pricing is billed pay-as-you-go. The number of active hours is calculated as the cumulative time each TaskRouter Worker spends in any TaskRouter Activity except one designated 'Logout Activity'. This Logout Activity is used whenever a user logs out of the Flex UI or if Flex identifies that the user is no longer reachable -- for example, if the browser tab is closed.
You can configure Flex Logout behavior within the Twilio Console. There, you can set:
Logout Activity

: the TaskRouter Activity that should be used upon the 'Logout' action. This defaults to the initial 'Offline' TaskRouter Activity.

Enforce Logout: whether to automatically logout users who are not reachable within the Flex UI. This defaults to 'On' for any new Flex projects since this change on July 17.
Offline Threshold

: The number of seconds a user may be unreachable before they are set to the Logout Activity. Defaults to 30 seconds.
If you're making any changes to your user activities, make sure to double-check this logout behavior. If the TaskRouter Activity associated as the Logout Activity is deleted, then users will never be inactive and will be continuously billed.
Selecting a Flex Paid Plan
Here's how to set up a paid Flex pricing plan on your project:

Login to your account at www.twilio.com/console.
If you haven't already added funds to your project, click Upgrade to upgrade your account.
Once your project has a balance, click Flex > Pricing, and select the desired pricing plan.
After selecting a Paid Plan, Flex Insights can now be configured here

, as Flex Insights is included with your paid plan.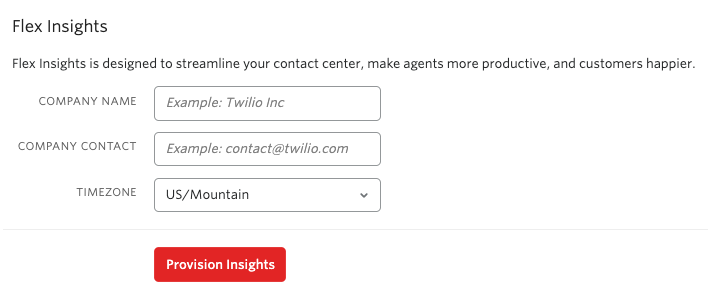 Twilio Flex Fair Usage Policy
When you upgrade your Flex project to unlock your free hours, you will have to agree to our Fair Usage Policy. We grant you free usage to a number of Twilio's products while using Flex, and this policy is in place to protect the Twilio platform and our customers from misuse and abuse. Twilio Flex is designed in such a way that the vast majority of our contact center customers, big or small, inbound or outbound focused, will not run into the edge cases described in this policy. However, excessive usage may result in additional charges for standard Twilio products.
Additional Resources