Twilio Support is available to answer any questions you have about product capabilities, building Twilio apps, and troubleshooting. This guide explains how to best reach out to them.
Note: If you're not a customer yet and are interested in using Twilio for your business, please use our Contact Sales form.
NEW! Twilio Help Center
Twilio's new Support Help Center site begins rolling out to customers on September 21st, with weekly expansions through October 2023. Our new site combines all of the functionality from the Support page on Console and our existing Support site, as well as some additional improvements.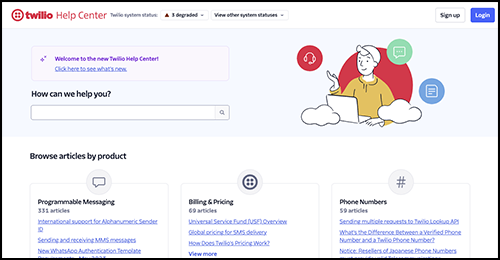 To see all of the new features, how to check if you have access, and instructions for using the site, see our guide Twilio's New Customer Help Center.
Steps for Contacting Twilio Support
Step 1: Check our docs for answers to your questions
Our API definition docs have sample code for all of our products, in each language our SDKs support. Here you'll also find tutorials and our quick start guides to get you up and running quickly.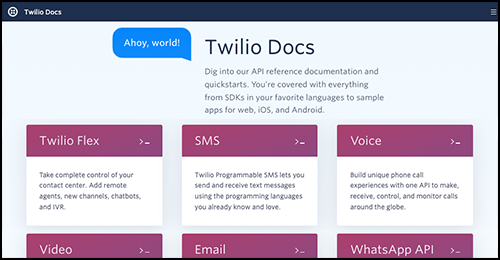 Our Support docs contain information about billing, account management, answers to frequently asked questions, and product introductions for non-developers. We also have a number of in-depth troubleshooting guides.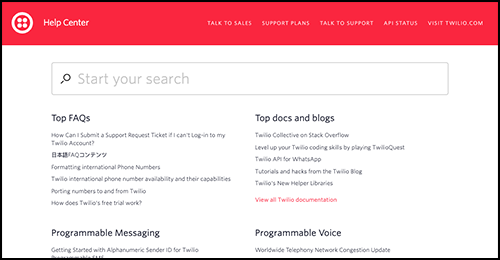 Step 2: Select your preferred Twilio Support contact channel
If you can't find what you're looking for in our documentation, don't worry, we're here to help. We offer a number of options for requesting help from our team, including our Console form submission, live chat, and phone calls. All customers can submit a request via the form in Console, and our knowledgable Support staff will respond - usually within 24 hours. Customers with upgraded Support plans have access to faster guaranteed response times, live chat requests, and phone support for some users.
| | | | |
| --- | --- | --- | --- |
| | Console form | Chat | Phone |
| Developer | X | | |
| Production | X | X | |
| Business | X | X | X |
| Personalized | X | X | X |
To see your current Support plan, and everything that is included with it, visit the Support Center page in Console.
Notice: Chat and Phone support is not available for some of our engineering products. The following products are limited to email/ticket support only: Programmable Video, Conversations, Studio, REST API, Functions/Serverless, Twilio CLI, Event Streams, Sync, Notify, Frontline, NTS.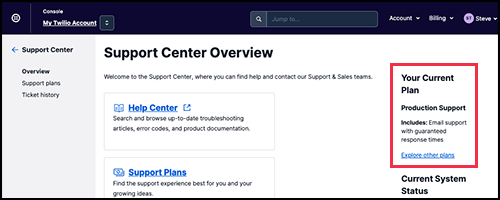 Step 3: Submit a Support request
Console
To request help while logged into Twilio Console, access the Support Center, and then click File a ticket to fill out the Support form.

Users subscribed to an upgraded Support plan can click Chat with us to ask their questions via our live chat widget.

Customers with Phone-eligible Support plans will have phone number contact information listed.
Twilio Support Site
To request help from Twilio Help Center, click the Talk to Support link in the top navigation bar.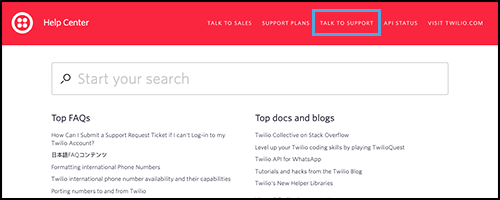 Users who are logged in to Console will be sent to the Console Support form.
Users who aren't logged in will see a helper widget. Enter what you need help with, and we'll try to provide you with documentation we have that may solve your problem. If the documentation is unhelpful, or doesn't resolve your issue, you can submit a help request via the helper widget.

Supported attachment file types
Twilio Support Center allows for audio, image, and video file attachments, as well as the following file types:
.csv
.doc / .docx
.har
.json
.pcap
.pdf
.ppt / .pptx
.rtf
.txt
.xls / .xlsx
Step 4: Monitor and respond to your open support request
Twilio's Support team will respond to your request, and may ask for additional details or clarifications.
All requests should receive an email confirmation on submission, as well as for any updates from our Support team. Users can respond to our Support team by replying to the email notification.
Users who submit their ticket while logged in to Console can view and respond to their requests via the Console Ticket History page.
Once your questions have been answered, you can close your request via a solved link in email, or in Console.
Additional resources