Alphanumeric Sender ID allows you to send Twilio Programmable SMS messages from a personalized sender name (rather than using your Twilio phone number) in supported countries. Instead of using an E.164 formatted Twilio Phone number for the "From" value, you can use a custom text string like your company's name.
Alphanumeric Sender ID works on single text messages, as well as with a Twilio Messaging Service.
Benefits of Alphanumeric Sender ID
Some of the key advantages of using Alphanumeric Sender IDs include:
Higher deliverability rates

Improved brand recognition

Increased open rates


                  


Higher 
Message Deliverability 

 


Improved
Brand Recognition

                 


Increased Open Rates

In many countries, regulatory bodies are increasingly clamping down on illegitimate A2P (application-to-person) SMS use cases to curb unwanted messaging.

Once the legitimacy of an A2P use case has been vetted, Twilio handles fluctuating telecom logic, regulations, and carrier-specific rules across 150 countries to ensure your A2P messages reach their destination.

 

 

 

 

 

 

Every SMS sent using a recognizable Alphanumeric Sender ID reinforces your branding. 

 

 

 

 

 

 

 

 

 

 

 

 

With increasing cases of spam and fraud, what appears as the sender of the message is a key factor message recipients take into account when deciding if they should open a message or not. If the sender is an international number, or a number with which they're not familiar, the chance of a message recipient opening the message is next to none. 

With Alphanumeric Sender IDs, receivers immediately recognize the sender, know the message is legitimate, and are 80% more likely to open the message.

 

 

 

 

Twilio Requirements
Alphanumeric Sender ID is automatically supported on all new upgraded (paid) Twilio accounts. It is not supported for free trial accounts.
You can validate that Alphanumeric Sender is enabled on your account by following these steps:
Login to your project at www.twilio.com/console.
From the left side navigation bar, click Programmable SMS .
Click Settings.
Verify that "Alphanumeric Sender ID" is set to Enabled.

 
If you continue to experience issues after validating that you are attempting to send messages to a supported country, your account is upgraded, and Alphanumeric Sender ID is enabled, please contact Twilio Support.
Send SMS Messages using an Alphanumeric Sender ID
To send SMS messages using an Alphanumeric Sender ID, use the desired ID for the 'From' parameter in your API requests. For examples of how this looks in code, please see Changing the sender ID for sending SMS messages.
You can also enable an Alphanumeric Sender ID on a Twilio Messaging Service. The Alphanumeric Sender ID will be selected automatically when sending to a supported country (unless you have SMS-capable numbers from that country in your Messaging Service pool, in which case Twilio will use those).
Sending Limitations
This feature is only available for upgraded (paid) Twilio accounts sending messages to supported countries. Some supported countries have additional requirements like going through a pre-registration process (see which countries require pre-registration) or only allowing messages that are transactional in nature (one-time passwords, account notifications) to be sent using an Alphanumeric Sender ID.
Alphanumeric Sender ID messages sent to an unsupported country will fail with an HTTP 400 error response from Twilio. In this case, we recommend that you fallback to a Twilio international mobile number.
Additionally, recipients cannot reply directly to messages sent out using an Alphanumeric Sender ID.
Sender ID Registration
For countries where Twilio supports Alphanumeric Sender ID capabilities, you need to go through either Dynamic registration or Pre-Registration. For the full list of supported countries and pre-registration requirements, please see our article on International Support for Alphanumeric Sender ID. Please note that this feature is currently unsupported in the North American mainland countries of Canada, the US, and Mexico.
Dynamic Registration Process
For countries which support Dynamic registration,  follow this process:
In your Twilio console, instead of using an E.164 formatted Twilio phone number for the "From" value, input your sender ID in the From parameter of your API request. The ID will be dynamically registered as part of the API request.
Here's an example cURL script - notice the From parameter updated in line 4. For full details, please see our Programmable SMS REST API documentation.

Pre-Registration Process
To pre-register an Alphanumeric Sender ID in countries that require pre-registration, follow this process:
Submit a request for a Sender ID at

this link

. Be sure to indicate which country.

Our Sender ID team will be in touch to update you on the progress of your registration.

Once the Sender ID registration is complete, you can use any 

Twilio phone number associated with your account as the From

 parameter in the API request 

and Twilio will dynamically replace the Sender ID when we detect the registered country as the sending destination.
Here are examples of some common requirements across countries where Pre-Registration is required:
Sender ID requested

Intended purpose (for example, one-time passwords, account notifications, promotional messaging) 

Company name

Company website

Projected SMS traffic (monthly)
Some countries have additional requirements; for example, in Indonesia, each telecommunication provider requires a Letter of Appointment (LOA) which authorizes Twilio to register and send branded messages on the sender's behalf. In addition, a screenshot(s) of the page where end users insert their account details and phone number is required, as shown in the illustration below.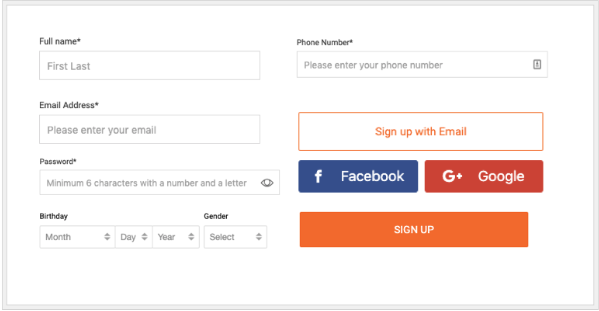 Screenshot of Sign Up page required for Indonesia Pre-Registration of Alphanumeric Sender IDs
To see the full list of requirements, look up the country you want in the International Support for Alphanumeric Sender ID page.
What characters can I use in my Alphanumeric Sender ID?
Alphanumeric Sender ID supports up to 11 characters (except for India which must be exactly six characters) from the following categories:
Upper-case letters A-Z

Lower-case letters a-z

Numbers 0-9

Spaces
Your ID must include at least one letter and cannot be composed only of numbers. Non-ASCII special characters and punctuation are not allowed.
How much does Alphanumeric Sender ID cost?
Some countries like Russia and Czech Republic have a monthly charge and/or a one-time set-up fee associated with the use of Alphanumeric Sender ID. Please see our article on International Support for Alphanumeric Sender ID for additional details.
For sending messages from Twilio, there is no price difference for using an Alphanumeric Sender ID vs. a standard Twilio phone number. Please see our Programmable SMS Pricing site for complete pricing information.
Can users respond to my messages that use Alphanumeric Sender ID?
No. You can only use Alphanumeric Sender ID for one-way communication. Recipients of messages with an Alphanumeric Sender ID will not be able to respond to you directly. Because of this limitation, we recommend only using Alphanumeric Sender IDs for one-way outbound messages (such as one-time passwords and account notifications). You may also include a contact number, email, and/or website address in your outgoing messages sent via Alphanumeric Sender ID if you wish to receive responses.
How do users opt out of messages sent with an Alphanumeric Sender ID
Because you can only use Alphanumeric Sender ID for one-way messaging, inbound messages sent to your Alphanumeric Sender ID will not be received on your Twilio project.
Customers receiving text messages with your Alphanumeric Sender ID should have opted in to your service and been informed how to opt out before you send the first message. We recommend you provide your users with a clear description in your Terms of Service about how many messages they should expect to receive and how they can opt out. Spoofing of brands or companies with Alphanumeric Sender ID is not allowed. You must comply with Twilio's Acceptable Use Policy and Messaging Policy at all times. 
We also highly recommend offering your users the ability to opt out of receiving SMS messages from your service by:
Writing to your support team

Calling your support phone line

Texting another phone number or short code