Using Twilio's Console site, it's easy to search for and find the phone numbers you want. Here are the instructions:
Login to your account at

www.twilio.com/console

.

Click

Phone Numbers 

.

Click the red + icon , or Buy a Number

.

Enter the criteria for the phone number you need, and then click

Search.
 

Country

: Select the desired country from the drop-down menu.

Number

or

Location

: Select the desired option to search by digits/phrases, or a specific City or Region.

Capabilities

: Select your service needs for this number.

Advanced

: Click this link to show options for the desired phone number type (local, mobile, toll-free), local address requirements, and to allow

beta number

results.
Search results will be displayed with the phone number, location, type, capabilities, and price listed. Click
Buy
to purchase a phone number for your current project or sub-account.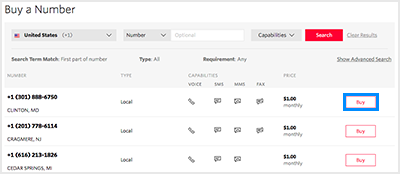 Search and Purchase a Twilio Phone Number via the REST API
Twilio phone numbers can also be searched and purchased programmatically using REST API requests. For full details, please see our article Using the REST API to Search for and Buy Twilio Phone Numbers.