A2P 10DLC requires that Twilio customers send messages to the US from phone numbers that are registered to an A2P campaign. Messages sent from an unregistered phone number are thus considered out of compliance with A2P requirements, and are charged at higher rates. Learn more about A2P pricing and fees here.
If you have been sending unregistered messages, you may see an alert in the console that says you're at risk of incurring penalty fees.
To resolve this issue, please first make sure you have completed A2P brand and campaign registration. If you are a direct customer, please follow the instructions here. If you are an ISV customer, please follow the instructions here.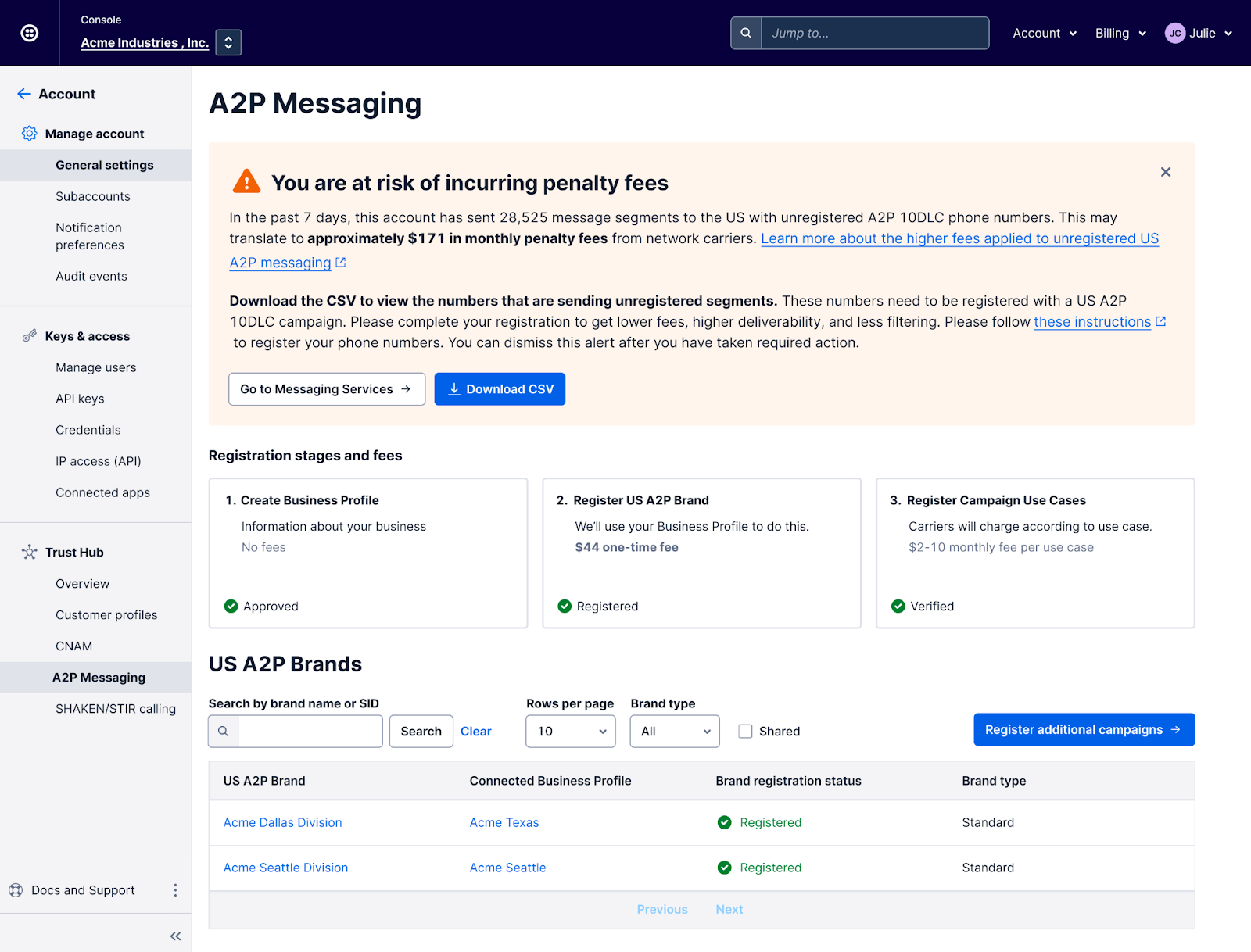 Once you've registered, download a list of all the Phone Numbers that have sent unregistered traffic in the past 7 days from your account's Twilio console - Trust Hub - A2P Messaging section. This csv file contains several columns:
Account SID - this is your account number.

Phone number - this is the list of +1 local phone numbers you have been sending unregistered message segments from.

Number of segments - the number of unregistered message segments you have sent to US recipients in the past 7 days on this phone number.
To register these phone numbers, the easiest way to do this is to:
Go to the Messaging Services page in console

Select the Messaging Service that is associated with your US A2P Campaign

On the left panel, select Sender Pool

Select Add senders, sender type phone number

Select Bulk-add Phone Number

Copy the list of phone numbers in the csv, and paste them here
Alternatively, you can also add phone numbers to the Messaging Service using our API, please check out our helper doc here.
Once you have done this, please feel free to navigate back to the alert, and dismiss it by clicking the "x" on the top right corner.
Please Note: The penalty fee number you see in the Console alert is only an estimate, and does not represent the actuals. Please refer to your billing statement to view your actual charges.
In addition, this csv file only contains phone numbers associated with the current account you are logged into. For customers with many subaccounts and want to view unregistered phone numbers across all those accounts, please reach out to your account team or the Twilio support team.