Here are a few items to check if messages are not reaching your Twilio number:
Do you have an SMS-enabled Twilio number? Does it have a webhook configured?
1. Log into your Twilio project and then click on Manage Numbers
2. Any number that has the SMS icon listed for it is able to send and receive SMS: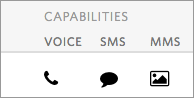 3. If there is no icon under "SMS," your Twilio phone number does not have SMS capabilities. Click "Buy a Number" to purchase an SMS-enabled Twilio number
4. Your number will also need to have a URL associated with it in order to receive incoming SMS.
Are you expecting to receive SMS from an international number?
Some international carriers are unable to successfully pass off SMS into Twilio's network. Because of this, Twilio cannot ensure that these messages will be received.
If sending domestic SMS to Twilio works fine, we recommend contacting the international sending carrier for more information.
Are you roaming off your network?
Twilio cannot guarantee the deliverability of SMS from roaming phone numbers.
If you decide to send an SMS from a phone number roaming in an area other than where it normally operates, the message may not arrive.
Twilio does not have the ability to determine whether or not the phone number you are sending SMS from is roaming at the time.
Are you expecting to receive SMS from a short code?
Services like Google Voice, Facebook, and Skype, which use short codes (e.g. 55555) to send SMS will not be able to send messages to Twilio phone numbers. This is because short code carriers have arrangements to exchange messages with mobile phone numbers only, and Twilio phone numbers are not considered mobile numbers.