As of September 1, 2022, Twilio Singapore Pte. Ltd. ("Twilio Singapore") will invoice customers located in Singapore for usage commencing August 1, 2022. Singapore requires local entities like Twilio Singapore to collect Goods and Services Tax (GST) for our services sold to all customers located in Singapore. Previously, customers were invoiced from Twilio Inc. and B2B (Business to Business) customers with a valid GST number were exempt from tax on our end. This guide covers how Twilio Singapore charges GST and what services are taxable.
Notice: Twilio's services may be subject to state and/or local taxes in a number of jurisdictions. To see if Twilio collects taxes in your country, please see the Taxes section of our Support Help Center.
The following topics are discussed in this guide. Click a topic to skip directly to this information:
When will Twilio start charging GST in Singapore?
Twilio Singapore will begin collecting GST on services sold to both B2B and B2C customers located in Singapore starting from August 1, 2022.
GST for the previous month is assessed and applied to your account at the start of the month for the previous month's usage. For example, you will be charged GST for your August usage in September.
How can I be tax exempt for GST?
Twilio Singapore is a local entity and local entities are required to impose GST on both B2B and B2C customers. In other words, there are no exemptions provided under the tax provisions for the type of services that Twilio Singapore provides. This includes but isn't limited to public school, university, charitable organizations, religious body, etc.
Are charitable organizations, schools, religious organizations exempt from Singapore GST?
Twilio Singapore would need to charge and collect GST from all local customers regardless of whether the customer is a business, public school, university, charitable organization, religious body, so and and so forth. There are no exemptions.
How do I enter my GST number to appear on the invoice?
Customers can enter their 9-10 character GST number in the "GST Number" field on the Billing Preferences page in Console.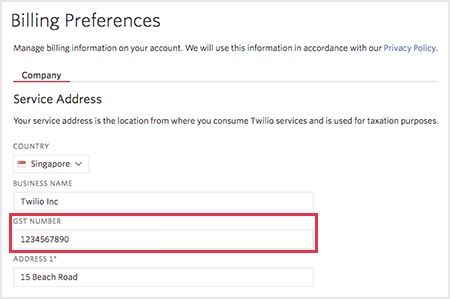 Customers can use one of three options here:
Standard GST registration number
National Registration Identity Card number (NRIC - for individuals who own sole proprietorships).
Unique Entity Number (UEN - used as your GST Number)
You can validate your GST, NRIC, or UEN number at the Singapore GST Registered Business Search (mytax.IRAS.gov.sg). Here are examples of how the different numbers may be formatted:
| | | |
| --- | --- | --- |
| Tax identification type | Description | Example |
| GST registration number | Business under GST registration, Sole proprietorships | MX1234567X |
| National Registration Identity Card (NRIC) number | Individuals who own sole proprietorships | X1234567X |
| Unique Entity Number (UEN) | Local company (Pte, Ltd, Ltd Co) | 200312345A |
| | Partnership | 52912345A |
| | Foreign company, LLP, club, association, agency, etc. | T08XX1234A |
How is GST determined?
GST is applicable based on the type of products or services that are purchased. We have determined that most of Twilio's software services and are subject to GST.
Please confirm your service address is up to date in the Twilio Console for accurate taxation in the correct jurisdiction. For help updating your service address, see How do I Update my Billing Settings.
What rate is GST charged in Singapore?
Twilio's services will be subject to the 7% GST rate as determined by the Singapore Taxation Office.
For example, a customer in September 2022 would be charged the GST standard rate of 7% for all taxable sales. If this customer spends $1,000 with Twilio and all of it is taxable, they would be charged an additional $70 for GST, for a total of $1,070 ($1,000 + $70).
Total taxable sales: $1,000
Goods and Services Tax (GST) @ 7%: $ 70
+ Total pre-tax sales : $1,000
= Total sales including taxes: $1,070
Some Billing adjustments may also have tax implications:
Credits applied against specific usage will refund you taxes at the same rate as the respective product (e.g. Credit - Voice Singapore Outbound)
Promotional balances are not taxable (e.g. Promo - Twilio.org)
Minimum spend adjustments are taxed at the same rate as the respective product (e.g. Quarterly Min Spend Adjustment - Voice)
Where can I see the GST charged on my Invoice?
GST can be found on your invoice in the Usage Summary section under "Taxes". This line item represents the GST charged.




Tax calculation is explained on the tax page: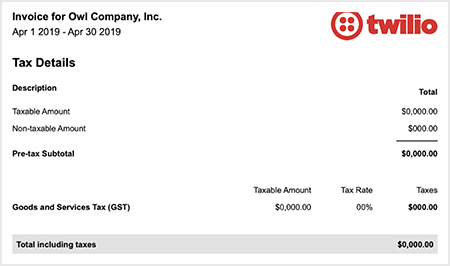 Taxes are also visible in the Invoice Details section, where we specifically call out any GST charged.



For more details, see Reading your Twilio Invoice.
Related Links