Do you need tax documents from Twilio? This guide explains how and where to find them.
Which documents are available?
At present, only the Twilio W9 form is posted for US-based customers to verify Twilio's name, address, and taxpayer ID number. This is the most common tax statement requested from Twilio.
Please reach out to our Support team with requests for any other tax documents. We will continue to update the console experience and this explanatory article based on the common document requests we receive.
Where can I download Twilio's W9 form?
You can download Twilio W9 form here
Or you can download Twilio's W9 form using the link at the bottom of the Billing Preferences page in Console.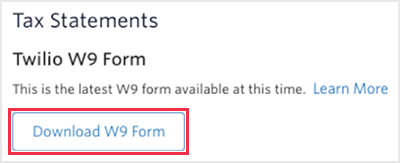 Notice: The W9 form is only visible to Owner, Administrator, or Billing Manager users roles on upgraded accounts with US-based service or billing addresses. For more information on user roles, see What's the Difference Between User Roles Owner, Administrator, Developer, Billing Manager, and Support.
Where can I submit my tax exemption certificate or read more about taxes charged on Twilio usage?
Please refer to the following resources: