In March of 2019, we launched a CSV supplement for Twilio invoices to help users tabulate their monthly data and analyze trends. This guide is intended to help users properly read and utilize the data presented in the CSV supplement. Have you ever wondered how your Twilio usage has changed from month to month, or are you interested in manipulating your invoicing data to gain additional insights into your usage and spend? If so, continue reading.
Access the Invoice CSV Supplement
Invoiced customers can download the CSV supplemental invoice from the Billing Overview page in Console. Select CSV from the drop-down menu, and then click Download.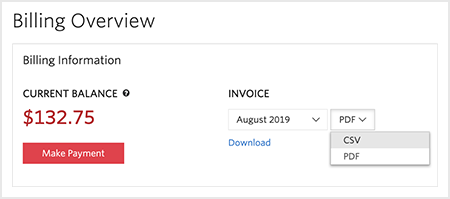 What Can you do with the CSV Supplement?
The CSV supplement gives you the ability to sort, filter, and manipulate your invoicing data, allowing you to gain valuable insights into your Twilio product usage across different countries and time frames. Here are some examples of what's possible:
Analyze the total dollars spent in each country
Find the variance in the number of SMS sent each month.
If you have multiple accounts on one invoice, you can analyze the usage of each item group across different accounts.
You can also combine CSVs from multiple months to see the trend of usage.
What Data is found in the CSV Supplement?
The columns in the CSV supplement match the information in your PDF invoice. The difference is that in CSV format, you can manipulate this data as needed. Here's an overview of what all is included:
Part 1: columns A - D

In Part 1, the columns go from high-level to detailed, as you scroll from left to right. Many users will not need the lowest level of detail in the invoice, so we organized your data in a sequential hierarchy, allowing you to focus on the level of detail you want to summarize.


Here is an example hierarchy explained via a graph: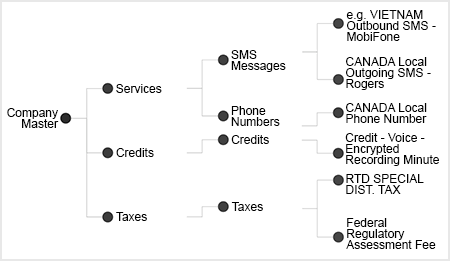 Part 2: columns E - F

In Part 2 of the CSV supplement, each item's usage in the month is broken down by quantity and amount.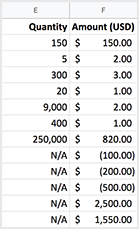 Part 3: columns G - M

In Part 3, the account identifier (or Account SID) is available for cross-referencing along with information on account type (e. g. master or linked) for invoiced accounts that are linked together.
"Item Country" shows the country of usage for each line item, helping you create usage reports per country. The "Bucket Inclusion" column is shown only to customers with a bucket pricing strategy, and supplements the buckets details in the invoice.
The last columns show the date and invoice identification information to help connect multiple CSVs together.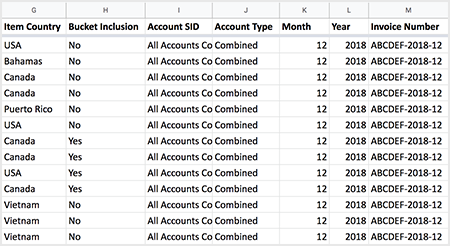 Using Pivot Tables to Analyze and Visualize the CSV Data
Opening the Invoice CSV in a spreadsheet application (examples: Microsoft Excel, Google Sheets, LibreOffice Calc, Apple Numbers, etc.) allows you to build pivot tables and charts, and better analyze the information presented:
You can analyze the total service spent or usage across countries.
 
Customers with multiple Twilio projects on one invoice can use pivot charts to analyze the usage of each item group across different projects, or the consumption in each project across different countries.
 
You can also combine CSVs from multiple months to see the trend of usage. 
For help creating pivot tables and charts, please see the following resources:
Future features
If you have multiple Twilio projects on one invoice, you can see usage per project at present. Just as the PDF invoice has sub-account usage rolled-up to the account level, similarly, the CSV supplement will initially have information rolled-up. We will soon expand capability to enable you to see usage per sub-account. Additional capabilities that will be launched soon include the high-level product group, such as SMS Messages and Voice.