Twilio's integrated Flex Insights gives users access to data and analytics for their Flex instance. Flex Insights tracks events, and allows you to build dashboards, reports, and alerts to help improve your customer engagements. Best of all, basic Flex Insights use is included with both the Active User Hour (hourly) and Named User (per-seat) pricing plans. This guide covers the Insights requirements, setup, and everything else you need to know to get started.
Flex Insights Requirements
To use Flex Insights, the following requirements must be met:
Once these requirements have been met on your project, you're ready to set up and start using Flex Insights.
Enable Flex Insights
Access Flex General Settings page in Console.
Locate the Flex Insights section.

Enter the company name, email contact, and timezone, and then click Provision Insights
The Flex Settings page will be displayed. Under the Recordings section, click the Call Recording toggle to enable or disable recording of all calls.

Access Flex Insights
From Flex, click Analyze.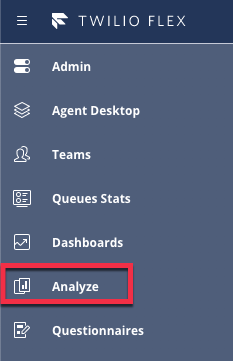 What Metrics are Available through Flex Insights?
Out of the box, Flex Insights captures and reports a number of different metrics including:
abandoned conversations
handled conversations
queue time
If this reporting is not sufficient, users can add custom data to task and worker attributes to collect the right data for your needs. For complete details, please see Task Router Data in Flex Insights (Twilio Docs).
Are Agent Transfers Visible in Flex Insights?
Yes. Flex Insights supports multi-segment conversations. This means users will be able to see a customer contact from inception all the way through the end.
Related Topics