When you purchase a Twilio Phone Number, it is recommended to associate it with an emergency address. In the US and Canada, when a 911 call is placed from a phone number without a registered emergency address, Twilio will charge a $75 fee per 911 call for the call to be delivered to a national emergency location center. To make sure you avoid this charge, associate a validated emergency address with your phone numbers. Associating an emergency address with a phone number has a cost of $0.75 per phone number per month.
How to add an Emergency Address to your Twilio Phone number via Twilio Console
First, login to your Twilio Console at https://twilio.com/login
Once logged in, use the search box and type, "phone numbers" in order to view the Phone Numbers options. See screenshots below:

Under Phone Numbers > Manage, click Active numbers and select the Twilio phone number that you wanted to associate an emergency address.
Inside the selected phone numbers configuration, click the "Add Emergency Address" button to start the configuration. You may refer to the sample screenshot below as a reference.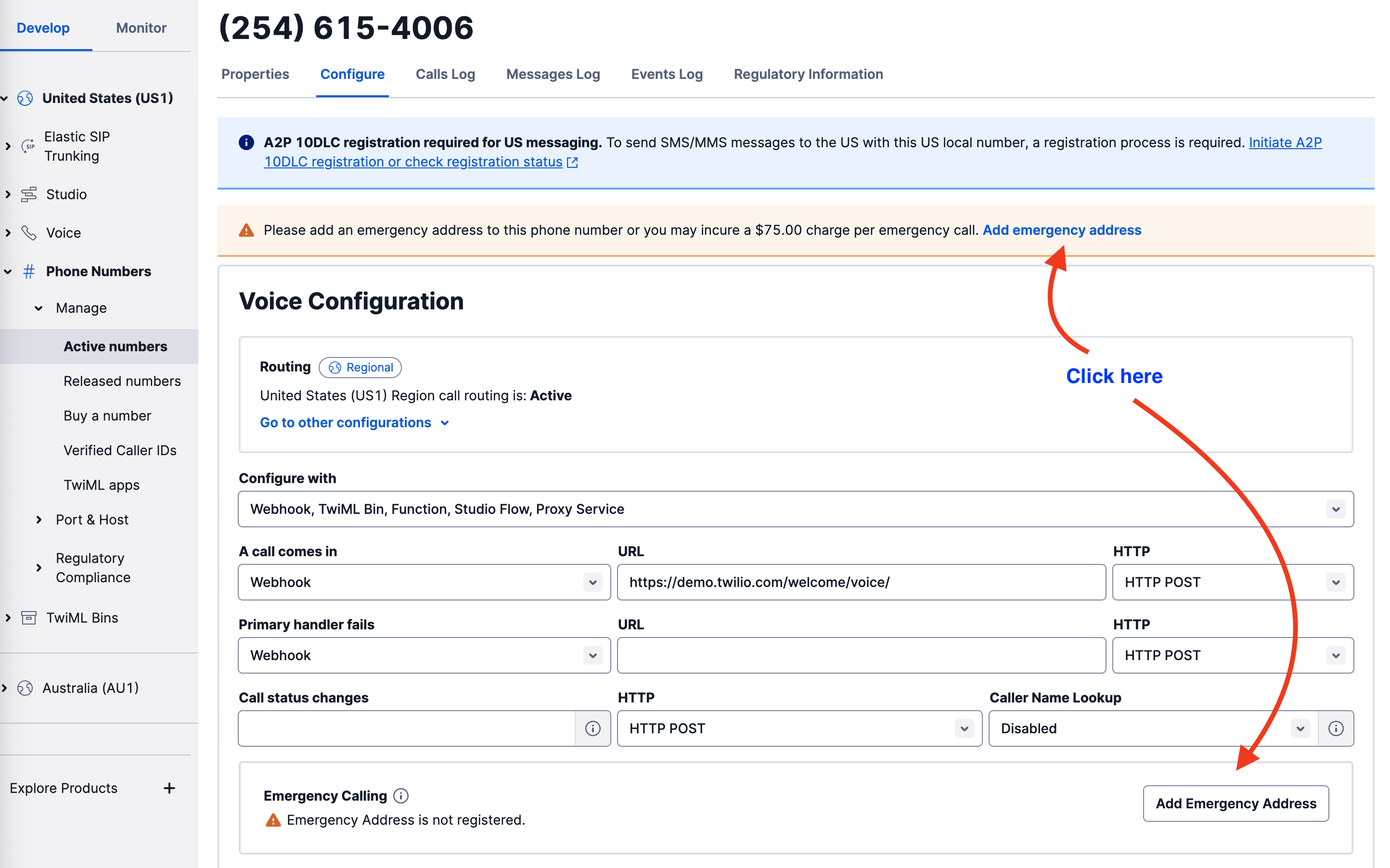 Option 1 - Add an existing validated emergency address
If you already have an existing validated emergency address, you can assign them directly by searching the exact SID of your emergency-enabled address, choosing the saved address, and clicking Add emergency address.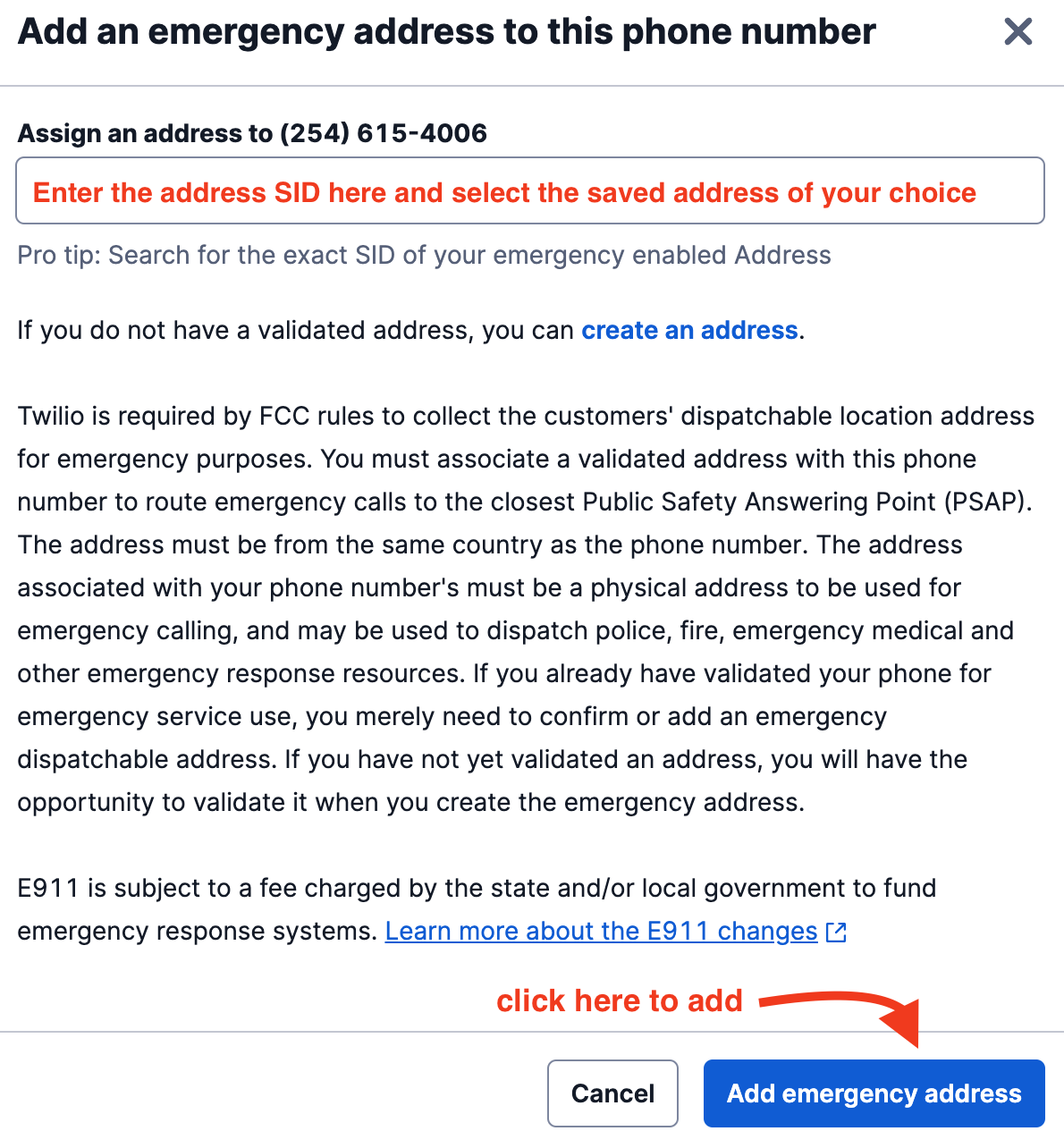 Option 2 - Create a new emergency address
Add a new emergency address and associate them with your selected Twilio phone number by clicking "create an address" as shown in the screenshot below: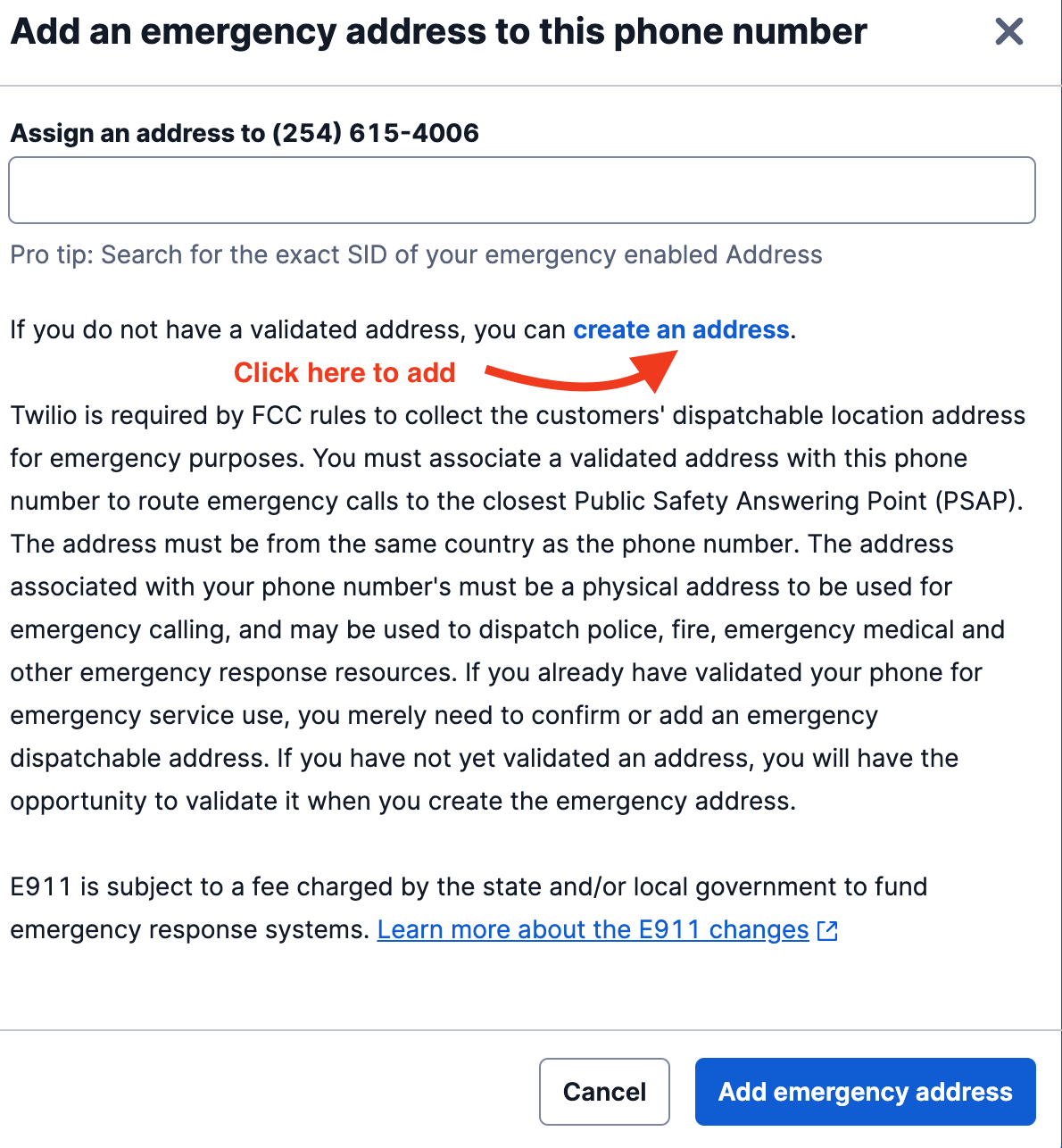 Start filling out the information needed, tick the declaration box, and click the "Create address" button followed by Add emergency address to finalize the submission.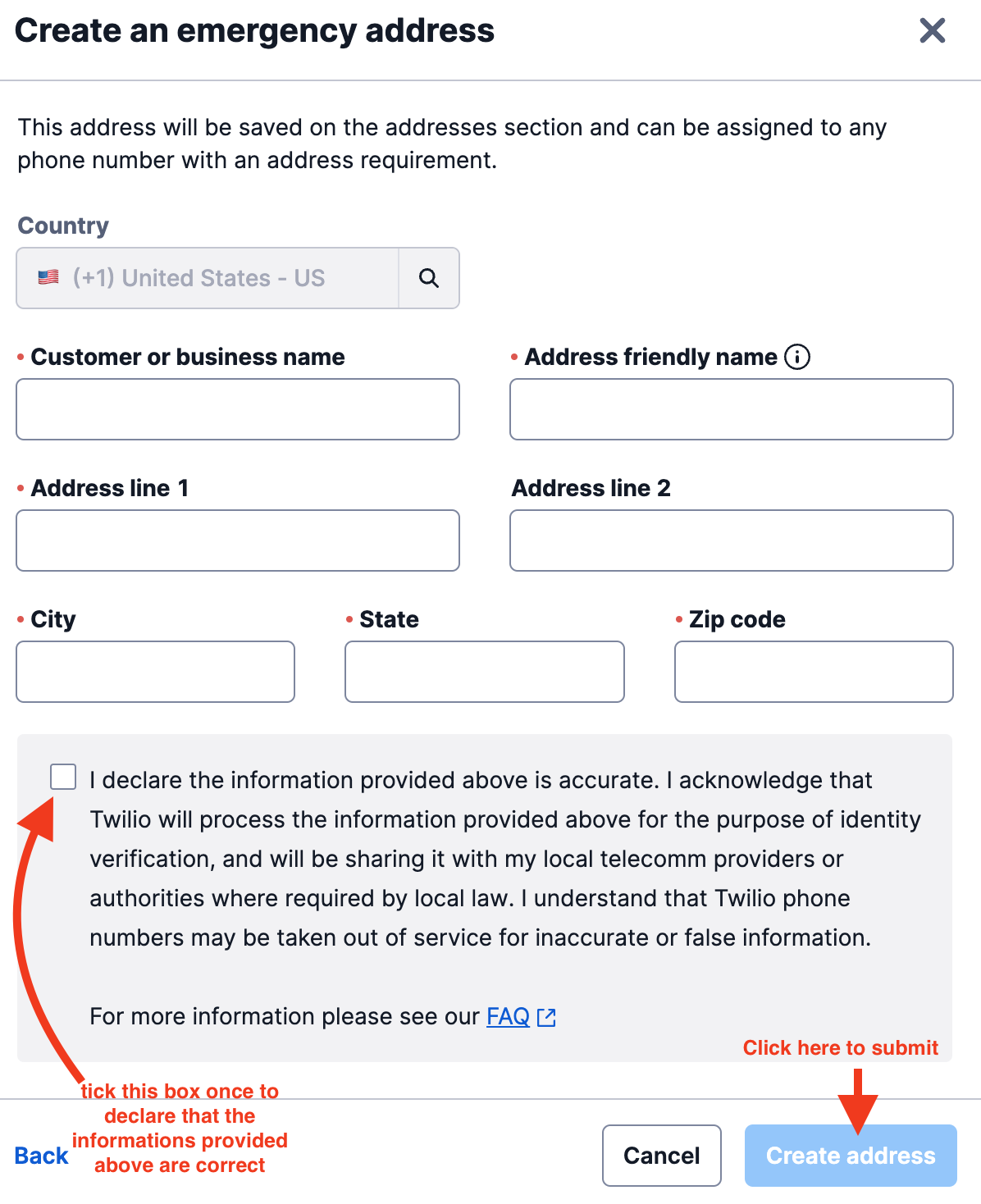 Important notes for creating an emergency address which can be validated for emergency service:
Check that the address can be found on Google Maps (this is not strictly necessary, but often is a good starting point for customers).
*If the google address differs from the customer submitted address, ask the customer to verify the google address is still a good match.
check the length of the Company Name and Friendly name fields; it may be too long (32 characters is the limit) and please don't leave it blank as well.
Be sure that the ZIP+4 Postal code is not used; always use just the standard 5-digit ZIP Code.
Be sure to use abbreviations where possible, i.e., "St" for Street, "Ave" for Avenue, "Bl" for Boulevard, etc. Do NOT use punctuation with the abbreviation.
Be sure to use the two-letter abbreviation for the State field, i.e., "CA" for California. Use capital letters and no punctuation.
Be sure not to use symbols like "&", "@", "#" in the Friendly Name, Customer Name, or Addressing fields (Secondary address field is OK as that field is not passed to the vendor).
Be sure NOT to add any extra spaces before or after any of the Addressing fields.
PO Boxes should NEVER be used for E911 addresses
Once done, that status will show pending then it will be registered after a minute or two. Some sample screenshots below for your reference.


If the registration failed for some reason, please feel welcome to raise a support ticket using the Support Center page in your Twilio Console or click here for a shortcut.