Twilio has a webpage that contains a full list of all possible REST API Error Codes that you may encounter when troubleshooting configuration issues using our platform. To obtain details on an error code, as well as possible causes and solutions, please visit our full Error and Warning Dictionary listed below.
View Error and Warnings in the Twilio Console
You can view any potential errors and warnings in the Twilio Console by navigating to the Error Logs section as shown below.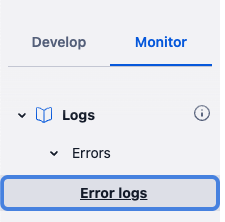 Once there, Twilio will display any errors and warnings you have had with your configuration or while using any of our processes. When you click an error or warning event, Twilio will show you specific information as to what triggered the alert and how to resolve it.